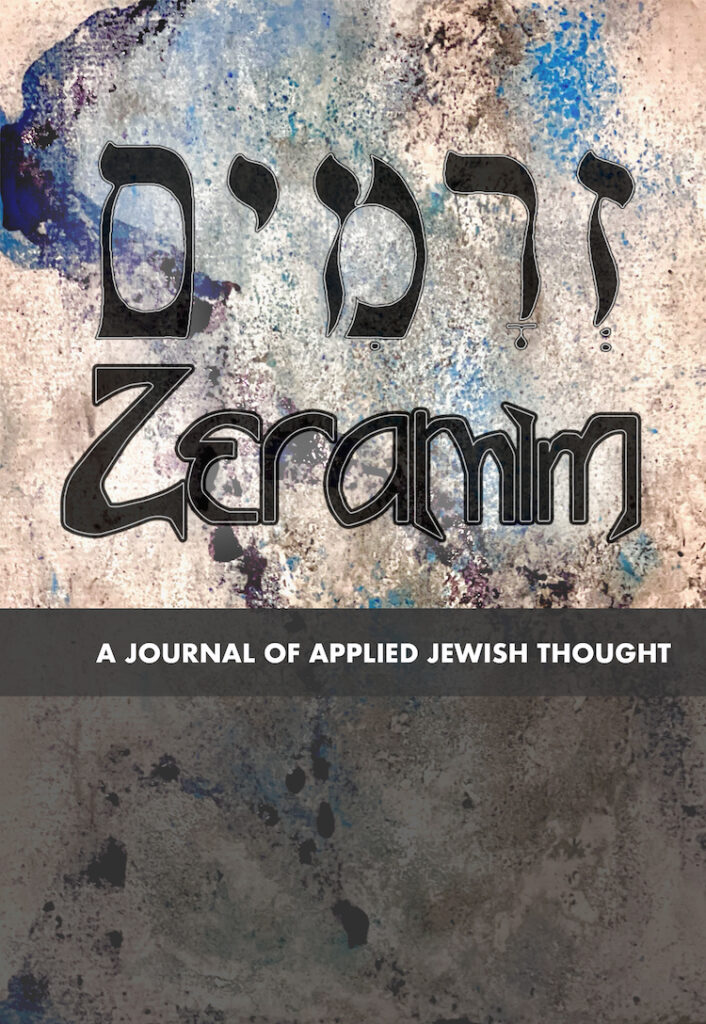 ZERAMIM: A JOURNAL 
                                              OF APPLIED JEWISH THOUGHT
                                         VOL. V: ISSUE 3
Summer 2021 / 5781

Dear Readers,
As we begin to collectively emerge from the many challenges of the past year, first and foremost, we hope that you, your families and loved ones, colleagues and communities, are emerging in good health, while also expressing our condolences for those we have lost, and our sympathy and support for those of us who remain in the wake of such tremendous loss. Though we cannot undo the unimaginable damage that has come of the most dire global crisis in our time, what we can do, is move forward together in support of one another, and start the process of recovering, of healing, of forging a path forward – particularly as our emergence is not into the world we knew 18 months ago, but into a world still being shaped by the ongoing crisis, as well as by our own real-time reactions. To that end, we also might begin to consider some of the broader questions of how we understand our tradition, and the ways in which such consideration and the consequent actions we take, can help ensure that our moving forward is not merely a chronological matter, but at matter of genuine and sustainable progression, in our thinking, our behavior, and our spirit.
One of our prior contributors, Rabbi Shai Cherry, PhD., has now published a substantial work (501 pages, plus introduction) asking some of these questions, entitled Coherent Judaism: Constructive Theology, Creation, & Halakhah (Brookline, MA: Academic Studies Press, 2020). In this work, consisting of three main parts, Cherry argues for some unusual positions – relative to the various positions put forth in, e.g., the excellent collection from just a few years ago, Jewish Theology in our Time: A New Generation Explores the Foundations and Future of Jewish Belief (Elliot J. Cosgrove, ed.) (Woodstock, VT.: Jewish Lights, 2012).
For this issue, we have invited our contributors to address some of the issues that Rabbi Cherry raises. Rabbi Cherry begins this issue with an overview of his tome. Each of Rabbi/Professor Jonathan K. Crane (a contributor to the Cosgrove volume), Rabbi David Mevorach Seidenberg (creator/owner of neochasid.org), and Richard Claman, then addresses aspects of one the three 'books' into which Cherry has divided his Coherent Judaism. (We note that there were also others who expressed interest in contributing to this discussion, but were unable to do so at this time, due to various obstacles, but we hope to share their exciting insights and opinions in the future; expressing our profound gratitude and enthusiasm for the increasing number of fresh voices wishing to engage in the larger project of Zeramim.) At the end of each of these three discussions, Rabbi Cherry provides a brief response thereto.
We hope that these thoughtful discussions will spark your own thoughts, as we head –too early, it seems – into the High Holiday season.
We wish a happy and healthy New Year to all, and look very much forward to resuming our ongoing discussion soon after!
Sincerely,
The Editors
Table of Contents
"The Rabbis Had Too Much Free Time on Their Hands"
Rabbi Shai Cherry
Rabbi Jonathan K. Crane, PhD
Reflections on Our Coherent and Compelling Universe*
Rabbi David Mevorach Seidenberg
Some Thoughts on the Theological
Arguments in Coherent Judaism*
Richard Claman
*Rabbi Cherry's respective responses included at the end of each piece.