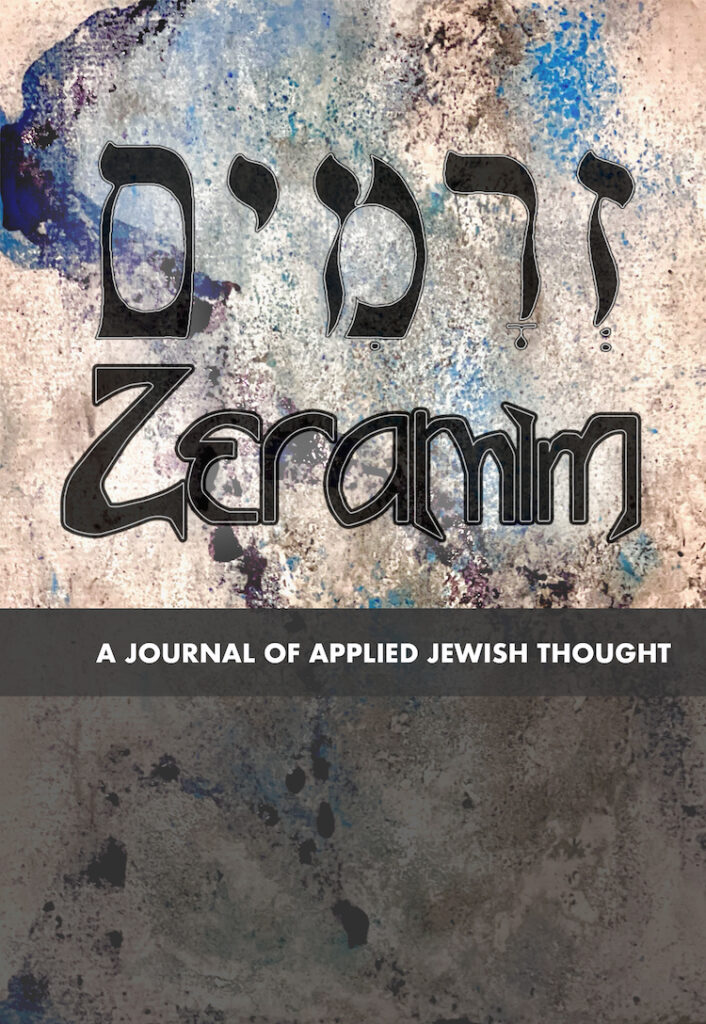 ZERAMIM: A JOURNAL 
                                              OF APPLIED JEWISH THOUGHT
                                         VOL. V: ISSUE 2
Spring 2021 / 5781

Dear Readers,
We hope that you, your families, friends, colleagues, and communities remain safe; we appreciate that this year has forced us all to know hardship and loss in unimaginable ways, but too, it has hopefully forced us to have greater compassion, to feel more care for and from one another, than we might once thought ourselves capable of, or in need of. Furthermore, we hope that in our Passover celebrations we will remain vigilant, despite the siren-song of our lesser, not better, angels, and in so doing, that we might experience continued protection from "The Destroyer" stalking the lengths of night's darkness, beyond, but just outside, our doorposts (Ex. 12:25, NJPS; contrast Ex. 12:13).
Just as Spring is a transitional season, and as vaccines travel from production lines to our arms, transitioning from product to protection, each of the articles we have the honor of presenting in this issue addresses a transitional experience in our Jewish lives/history, offering fresh and transformative perspectives.
As we anticipate emerging from this 'age of anxiety', our first piece, by Professor Admiel Kosman, reminds us that anxiety is not a new phenomenon; he suggests (based on a careful analysis of texts) that the ancient ceremony of sending off a goat to 'Azazel' – a ritual with pre-Israelite roots – should be understood as a response felt by Israelites on Yom Kippur.
The second piece, by Richard Claman, focuses on a later transitional moment, in the early tenth century CE, and argues that we should reconsider the philosophic treatise of Sa'adyah Gaon in light of the process of the 'rabbinization' of 'ordinary' Jews. Concerning Maimonides, who wrote 250 years later, the philosophy of his time indeed represented a challenge to Judaism from the outside. Claman argues that, in contrast, Sa'adyah harnessed philosophy as part of his across-the-board cheerleading effort for what he took to be the most persuasive rabbinic program.
Our third offering, by Margaret Hughes-Robinson, a senior rabbinic student at JTS, mere months from making her transition from student to rabbi (though doubtless, she will remain ever an involved and intrepid scholar), provides a fresh translation of an eighteenth century responsum concerning abortion, emerging from the Beit Din of the remarkable realm of Algiers' vibrant and multifaceted Jewish community. Hughes-Robinson goes on to explain how that responsum relates to philosophic arguments being made today in that regard – arguments that we are being forced, in our present political climate, to again consider.
Finally, Dr. Ahuva Ho introduces us to her manuscript discoveries concerning the secret identity of Alfonso de Zamora – long thought to have abandoned Judaism following 1492, but now evidenced to be a Converso seeking to maintain his Jewish identity, using his academic prominence to convey support and advice for fellow Jews, also under the thumb the iron thumb of the Catholic Church in Spain.
Lastly, we wish to alert you to (and perhaps enlist you in) two ongoing projects being undertaken by our editors. First, we are thrilled to be shortly publishing a new issue of Zeramim Drash, in which the creative product of contemporary Jewish artists engaging with texts, experience, and tradition, will be featured as the valuable contributions to Jewish life and culture that have always been, in conjunction with academic scholarship, essential in keeping Judaism a dynamic living religion.
The second project began after the recent discovery by happenstance that a prior journal named Zeramim was published in Vilna, for 18 months in 1931-1932. The YIVO archive, though in possession of issues of Zeramim, and enthusiastic in their desire to aide our wish to learn more, has been repeatedly shuttered by the pandemic, and able only to point us to partial scans of some of the paper's issues on the Polish language website of a Polish archive; the pages missing from the first issue, crucially disclose the majority of an explanation as to why the editors chose that name. The tail end of the explanation, which is the first content page currently available, appears to express that the editors sought to combine the new literature being produced by secular Zionists in Palestine, with the cultural output of the diaspora. To recognize the artistic spirit of that time, and our commitment to continuing an inclusive and productive Jewish dialectic, we have also redesigned our logo for this issue, combining art deco motifs from Vilna in 1931, with current aesthetic sensibilities.
Chag Kasher V'Sameach.
The Editors
TABLE OF CONTENTS
A JOURNEY THROUGH THE GATES OF GOOD AND EVILIN JEWISH SOURCES: TOWARDS A MONISTIC-PSYCHOLOGICAL READING OF THE AZAZEL RITUAL
Admiel Kosman
SA'ADYAH AT THE CENTER: TOWARDS A DIFFERENT NARRATIVE ACCOUNT OF THE PLACE OF HIS PHILOSOPHY IN THE TRIUMPH OF RABBINIC JUDAISM
Richard Claman

CITIZEN-SOULS; TRANSLATING A JEWISH UNDERSTANDING OF ABORTION FROM ALGIERS TO AMERICA
Margaret Hughes-Robinson
ALFONSO DE ZAMORA – A CRYPTO-JEW
Dr. Ahuva Ho